Last night's victory over Baltimore wasn't the most aesthetically pleasing win, but it was yet another win nonetheless. If you missed it, Josh Donaldson scoring on a wild pitch in the first inning turned out to be the play that added the highest win probability in the game for the Yanks. But Gerrit Cole and Clay Holmes faced 33 batters combined and only allowed seven to reach base – if you're going to have an off night with the bats, last night would be a good night to do it.
The win was the fourth in a row for the Yankees and their 23rd win in their last 27 games. Also, it's their sixth consecutive win against the Os since dropping two of three to them from April 15th through the 17th. Despite the torrid stretch, the Yanks' lead in the AL East remains at only 5.5 games over Tampa Bay with more than three-quarters of the season to go. The Yankees' considerably heavy foot must remain firmly on the gas pedal this afternoon in Baltimore.
To that end, the Yanks will send Jordan Montgomery to the mound, and we all know what that means. Without Montgomery on the mound, the Yankees have won an incredible 26 out of 30 games, but with him on the bump, they've lost five of seven. This is, of course, just randomness from a small sample size, as Monty has pitched very well in his seven starts. In fact, in his last start against Chicago, he clearly didn't have his usual command, but even then the start wasn't bad, as he made it into the fifth having allowed only two runs. His game score of 44 that day was the only one below 50 for him since his first start on April 10th when he continued to pitch after getting slammed on the knee by a comebacker.
Montgomery has a phenomenal ability to get batters to leave the zone without issuing many free passes (a heck of a combination of skills) and has avoided hard contact very well in 2022. All told, after seven starts, he's thrown 35.1 innings and posted an impressive 3.56 xERA with an xFIP of 3.76.
Montgomery's counterpart will be Baltimore's best pitcher and familiar foe Bruce Zimmermann. Zimmermann also boasts a high chase rate and a low walk rate, but unlike Montgomery has been prone to allowing hard contact as his xBA, xSLG, xwOBA, and average exit velocity all rank in the bottom third of the league.
Today will be Zimmermann's third start against the Yankees so far in 2022. On April 17th, he tossed five shutout innings against the Bombers in an eventual 5-0 Baltimore win but got knocked around to the tune of seven hits and three runs in 4.1 IP in a 10-5 Yankees win on April 28th. Zimmermann has also made seven starts in '22 and he brings a solid 4.19 xERA and 3.76 xFIP into today's action.
Today's first pitch will be at 12:35 PM, ET from Charm City. You can watch it on the YES Network, MASN and, MLB.tv, and you can listen to the radio call on WFAN 101.9/660. As always, you can follow along with me @mybaseballpage1 on Twitter and on the "My Baseball Page" on Facebook.
The Yanks will be returning to the boogie down after the game for a three-game weekend set with the White Sox, so here's to a happy getaway day trip home. Heave ho, five in a row!
Today's Lineup: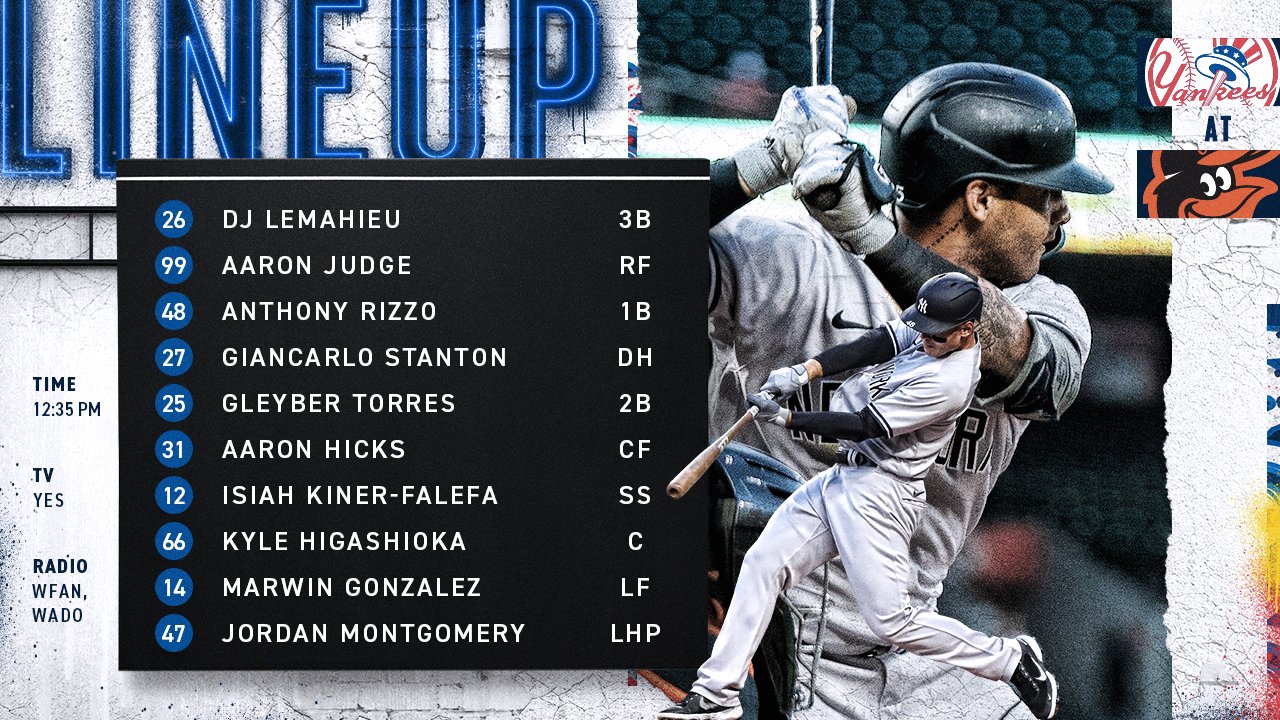 If you like the blog and would like to see more of it, feel free to buy me a coffee – Starbucks, tall, dark, no room. It may not seem like much but every little bit goes a long way toward keeping the blog rolling. Thanks in advance!