In case we haven't met, I'm the guy who about a decade and a half ago noted that building a new sports stadium in the 21st century without a retractable roof was a dumb idea. I was, by and large, mocked.
Yes, the Yankees had another game postponed last night due to thunderstorms (the game will be played tomorrow as part of a doubleheader.) But before we get to that, they'll tee it up in the boogie down this afternoon against the Chicago White Sox. Our friends in Baltimore did the Yanks a favor last night by beating the Tampa Bay Rays, while Toronto beat the awful team from Cincinnati (sell the team, Bob.) As a result, the Yanks' lead in the AL East stands at 5.5 over Tampa Bay and 7.5 over the Jays heading into action today.
Nestor Cortes will toe the slab today for the home team, and there's no need for me to tell you how good Cortes has been this year – but it's fun, so let's do it anyway. Nasty Nestor ranks above the 90th percentile in MLB in K percentage, xERA, xBA, and xwOBA, and his cutter has been one of the hardest pitches to do damage against in MLB this season (per Baseball Savant's run value). He's been particularly hot lately, throwing a combined 15.1 innings in his last two starts in which he posted an average game score of 81 and allowed only one run.
Chicago's Dallas Keuchel will be Cortes' counterpart today for the Chi-Sox. There aren't any secrets about the 34-year-old 11-year veteran – he's going to throw a lot of sinkers on the edges to try to get batters to ground the ball to his infielders. Although he's still posting a very good ground ball rate, the former Cy Young award winner hasn't been great so far in 2022 allowing almost two baserunners per inning over his six starts, while posting an xFIP of 4.82. That said, he's coming off his best start of the season when he threw five shutout innings against the Yanks on May 14th in an eventual 3-2 White Sox win.
Nasty Nestor's first pitch from the Bronx will be at 1:05 PM, ET. You can catch the game on the Yes Network, the MLB Network, and MLB.tv, and you can listen on WFAN 101.9/660. As always, give me a follow @mybaseballpage1 on Twitter and like the "My Baseball Page" on Facebook.
Nothing better than day baseball folks, let's get the "W".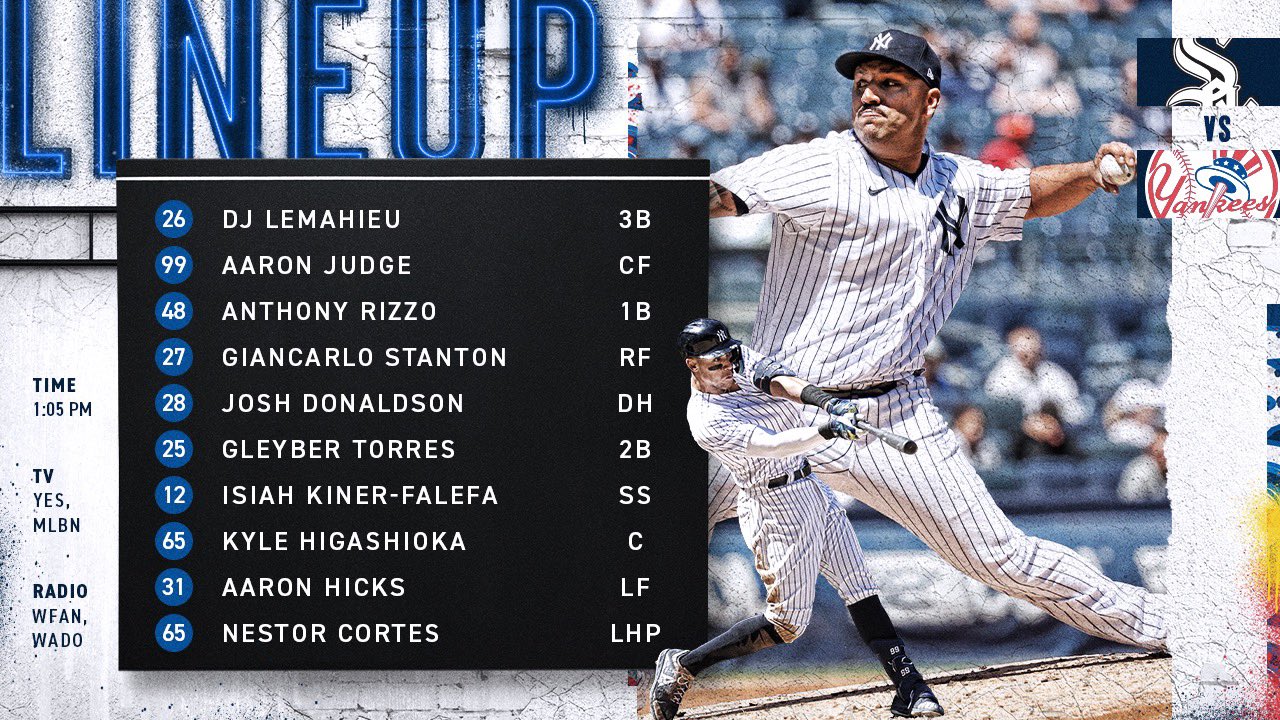 If you like the blog and would like to see more of it, feel free to buy me a coffee – Starbucks, tall, dark, no room. It may not seem like much but every little bit goes a long way toward keeping the blog rolling. Thanks in advance!