Before we get to tonight's clash with the O's, let me get my mini-rant out of the way:
Exactly 300 players have a minimum of 75 PA this season, and among those 300, Kyle Higashioka's wRC+ of 25 (TWENTY FIVE) is dead last. Furthermore, he leads MLB catchers in passed balls allowed, despite being only a part-time player.
Don't misunderstand: I'd do the Minnesota trade over again every day and twice on Sunday – Josh Donaldson and Isiah Kiner-Falefa are massive improvements over the 2021 versions of Gio Urshela and Gleyber Torres. That said if Gary Sánchez (113 wRC+ and only 2 passed balls allowed) led MLB in passed balls allowed and was the literal worst hitter in baseball as a Yankee, Yankees social media would have a nuclear grade implosion if he were still playing in the Bronx.
Remember what I wrote a few days ago: It's cool to have players you prefer to watch over other players, we all have our preferences. But be careful what you wish for because many (most?) Yankee fans were clamoring to see Higgy more than Sánchez last season – who we like and don't like often has less to do with their ability and more to do with personal biases than we realize sometimes.
Rant over. The Yanks are playing the Baltimore Orioles (winners of three of their last four games)again tonight in the first game of a three-game series. It's the beginning of an important stretch for the players in pinstripes as after three with Baltimore, the Yanks will fly to Tampa for a four-game set with the Rays, then return home for three with the  Angels, who currently have the AL's third-best record. With only a five-game lead over the Rays in the standings despite their excellent start to 2022, the Yanks don't have too much room for error as we enter the last week of May.
The Bombers will be facing a familiar foe tonight, as Baltimore will send 31-year-old righty Jordan Lyles to the mound to face the Yanks for the fourth time in 2022. In his three starts so far in 2022 against New York, Lyles has two good ones and a clunker, with his best start of the season coming last Wednesday against the Yanks. In what was an eventual Yankees win, Lyles certainly did his part for the O's, throwing seven innings and allowing only two runs while fanning eight batters against zero walks. Lyles features five pitches and pitches to contact, so the Yanks batters need to be ready to launch when they step in the box.
If you hear Kenny Loggins playing it's because the Yanks "Top Gun" will be toeing the slab tonight in the Boogie Down. Cole has been scalding hot over his last five starts, throwing a combined 32.1 innings with a ridiculous 39 to five strikeout to walk ratio and 1.67 ERA, while holding hitters to an anemic .210/.240/.298 triple slash line. With the Yankees in the midst of a two-game losing streak – only the second one this season and the first since April 10th and 11th – the team needs its ace to be a bully and right the ship against the cellar dwelling Orioles.
Cole's first pitch will be at 7:05 PM. You can watch the game on the YES Network and stream it on MLB.tv. You can listen to John and Suzyn's radio call on WFAN 101.9/660 and as always, follow along with me @mybaseballpage1 on Twitter and on the "My Baseball Page" on Facebook.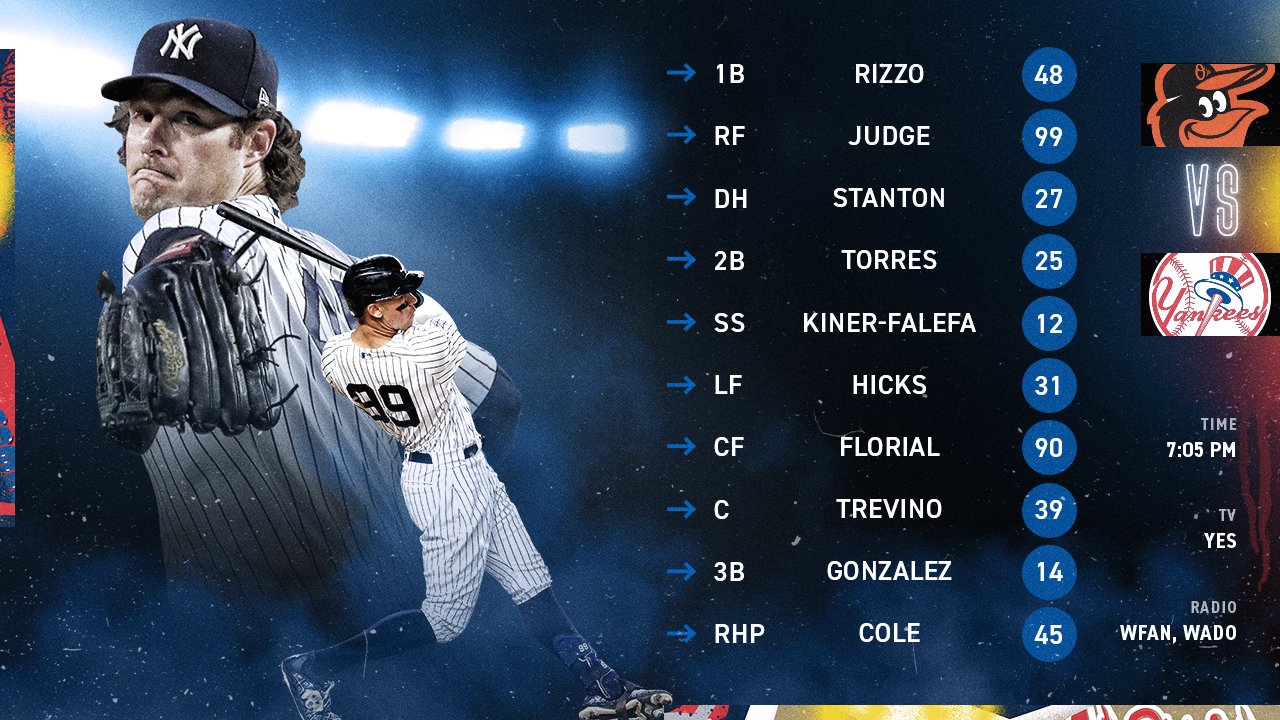 If you like the blog and would like to see more of it, feel free to buy me a coffee – Starbucks, tall, dark, no room. It may not seem like much but every little bit goes a long way toward keeping the blog rolling. Thanks in advance!